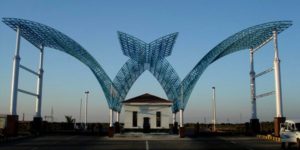 Welspun India is the largest manufacturer of home furnishing, bed sheets and towels and all that, largest in Asia and has a significant US market and they have tie up with JC Penney, Target, Walmart and all sort of things having a very good presence in US.
Unfortunately life for the shareholders of Welspun India has come full circle after reports of a retail company Target Corporation severed business ties with the textile manufacturer, saying the latter supplied it cheaper cotton in the name of Egyptian cotton.
The stock is seeing continued pressure since the time this news has hit the market and has created panic among investors. The stock which was widely recommended by all the major brokerages suddenly came under intense selling pressure.
Target took dramatic action, terminating all business ties to Welspun and offering customer's refunds. This week, Wal-Mart Stores Inc. and J.C. Penney Co. have announced reviews of the company's products and cotton certification records, while Bed Bath & Beyond Inc. said it appointed an independent third party to audit its supply chain.
People in the business say that they have had consignments rejected merely because the thread count differed. It isn't just about adhering to quality standards one time, but about doing it each and every time a product is manufactured for shipment. Staying in the business is then akin to being on a treadmill. At the first sign of a slowdown, and in the case of Welspun that seems to have happened when Egyptian cotton went off the markets, companies start cutting corners. In this case, Welspun, or its vendor, chose to substitute the promised Egyptian cotton with a lower quality one.
Around 1998-2000, a number of Indian companies did realize that if they wanted to compete at the international level they needed to adhere to strict quality standards. The result was many of them moved to adopting quality management processes like total quality management (TQM) or Six Sigma. In 1998, Sundaram-Clayton Ltd, Brakes Division, was the first Indian company to win the Deming Prize, the global gold standard for quality processes, and three years later Sundaram Brake Linings Ltd became the second company of the group to win the prize. Since then, another 21 Indian companies have won the prize.
The benefits of a sustained quality program can be seen in how Delhi-based SRF Ltd, which won the prize in 2004 for its Industrial Synthetics Business, has now implemented the same standards in its much more complex chemicals business which entails custom synthesis, a highly precision-driven activity. This business won the prize in 2012.
The company has issued a statement calling the situation "an issue of highest priority for us," and announced the hiring of an outside auditor to review its supply chain systems and processes. The company defended its products and held a conference call to allay investor concerns in which it took responsibility.
The biggest step in the right direction that Welspun took was hiring an external accounting firm to conduct an investigation into its supply chain and supply processes. By doing this, Welspun proved it is looking to identify the root cause of the issue and prevent it from continuing, without being able to cover up any details internally. Welspun showed confidence in its existing processes but acknowledged there are possible faults and areas for improvement. This level of transparency is key as it keeps stakeholders from feeling like they are being kept in the dark and shows the company's true concern is finding out the issue at hand.
The stock has fallen from about Rs.100/- odd levels to about Rs.48.30/- levels. The stock is currently trading at about 6.56x its FY16 EPS which is cheap. However the export business is a highly quality conscious business and bad reputation leads to loss of reputation and confidence in the companies products. Already many leading retailers have stated that they are reviewing the products procured from Welspun India and conducting their own audits. Though valuation wise the stock is attractive there is lack of clarity and visibility about its business in the medium term. We would recommend those have already invested in the stock to Hold for now while fresh investments can be avoided for now.